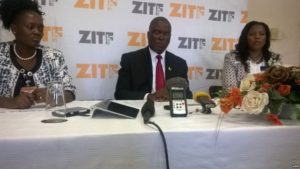 (L-R) Zimbabwe International Trade Fair general manager Nomathemba Ndlovu, chairperson Bekithemba Nkomo and marketing executive Stella Nkomo.
Share
See comments
BULAWAYO —
The 57th edition of the Zimbabwe International Tarde Fair kicked off in Bulawayo on Tuesday with an official saying despite the prevailing economic environment, this year's exhibition is better than in previous years.
Addressing journalists at a press conference at the Zimbabwe International Trade Fair this afternoon, ZITF Company chairperson Bekithemba Nkomo said he is happy with the overall show, saying the products on display are better than those exhibited in the past few years.
Nkomo acknowledged that there are a few exhibition halls that are empty, noting that this was due to depressed demand. He added that the ZITF Company decided to focus more on the quality of the exhibitions than the number of exhibitors.
Nkomo also confirmed that there has been a decrease in the number of Chinese companies whose numbers in previous years have been increasing. He attributed this to a global trend in which businesses are cutting costs.
On views that the exhibition is losing its popularity and relevance, he said the ZITF is transforming itself to refocus on promoting products from the local manufacturing sector in response to demands by its clients.
Nkomo said there are 390 exhibitors, which is just a few more than last's 387 exhibitors.